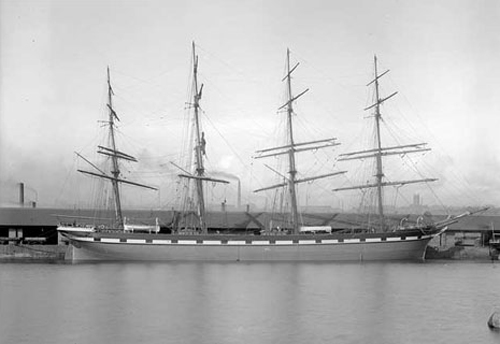 For twenty years the County of Roxburgh sailed the Atlantic Ocean, through the Mediterranean Sea to the Indian Ocean and the South Pacific.

Built in 1885 by Barclay, Curle & Co., for R. & J. Craig of Glasgow, Scotland the County of Roxburgh was a four masted iron ship, or 'barque', 285'6" in length by 43'5" in height by 24' in width and weighed 2209 tons.

The County was a merchant ship, used in the Indian jute trade. She had a cargo capacity of 2855.28 tons in the lower deck, and 1511.48 tons in the tween deck. Two fresh water storage tanks (one fore, one aft) held a total of 6560 gallons of water.

The final journey for the County of Roxburgh began on December 18, 1905. While bound for Melbourne, Australia from Caldera, Chile, she was caught in a cyclone. On February 8th 1906, her sails torn to shreds, Captain James Leslie and his crew of 25 men were unable to avoid the massive waves that dropped the ship high on the coral reefs of Takaroa in the French Polynesian Tuamotu archipelago.

Ten of Captain Leslie's crew members perished. Sixteen of the crew survived including Captain Leslie. This website is dedicated to Captain James Leslie, and the crew of the County of Roxburgh.

| | | |
| --- | --- | --- |
| | 1886 June | First Launched in Glasgow at the shipyard of Barclay, Curle & Co |
| | 1891 | Cardiff, Wales to Colombo,Ceylon in 85 days |
| | 1892 | Mauritius to Calcutta, India in 23 days |
| | 1893- 1894 | Calcutta to Dundee, Scotland in 99 days |
| | 1894 December 16 | Calcutta to Boulogne, France in 96 days |
| | 1899 September 16 | Barry, Wales to Cape Town, So. Africa in 68 days |
| | 1901 | Cape Town, So. Africa to New York in 44 days |
| | 1902 | New York, to Shanghai, China in 132 days |
| | 1903 | Astoria to Queenstown, New Zealand in 108 days |
| | 1905 December 18 | Left Caldera, Chile bound for Melbourne, Australia |
| | 1906 February 8 | Shipwrecked on the Takaroa Atoll, French Polynesia |



COUNTY of ROXBURGH
Photographed in harbor prior to her fateful voyage in 1906
This photograph, found by a Scottish antique dealer,
is courtesy of the late Captain and Mrs. Arthur Kimberly.







SIXTEEN SAVED:

James Leslie - Captain
William Miller - 1st Mate
H. Ochenden - 2nd Mate
J. Brown - 3rd Mate
R. Ceace - A.B.
Charlie Batista - A.B.
J. Harris - O.S.
J.T.C. Hendrick - Apprentice
R. Krahl - Sailmaker
J. Marshall - A.B.
J. Paschburg - A.B.
A.V. Richardson - Apprentice
G. Roberts - Cook
C. Robson - A.B.
W. Simpson - A.B.
J. Stirling - Apprentice

TEN DECEASED:

R. Anderson - A.B., age 27, Sweden
P. Anderson - A.B., age 37, Sweden (brothers)
H. Cordes - Seaman, age 19, Australia
C. Diestel - A.B., age 21, Germany
G. Herd - Carpenter, age 27, Russia
P. Koch - A.B., age 22, Denmark
M. Olderog - A.B., age 21, Germany
L. Parsons - Apprentice, age 18, England
C. Wagner - Steward, age 32, Germany
P. Wagner - A.B., age 45, Norway



COUNTY of ROXBURGH
at Victoria Dock in Dundee, Scotland 1888
photographed by Alexander Wilson
Courtesy Dundee Central Library.




CLICK ON THIS ANCHOR


to read the Court Report of the formal investigation held at the Debts Recovery Court in Glasgow, Scotland on July 13, 1906 wherein the Court found that the loss of the ship and the loss of life were not caused by the wrongful act or default of the master and that the vessel was navigated with proper and seamanlike care.



OR THIS ANCHOR


to read

WRECK OF A SHIP.

New Zealand Herald, Volume XLIII, Issue 13151, 14 April 1906, Page 5